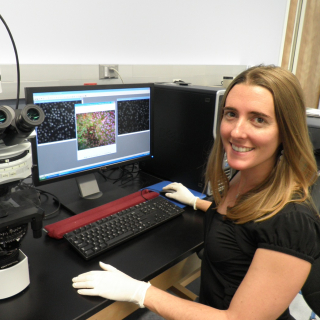 Britney Pennington
Project Scientist
Office:
Biological Sciences II, Room 5166
Education
Ph.D. Biochemistry and Molecular Biology - UC Santa Barbara 2014
B.S. Molecular Biology - Florida Institute of Technology, 2008
B.S. Biochemistry - Florida Institute of Technology, 2008
Bio
The exquisite complexity of life has captured my fascination since I was a very little girl.   Although obsessed with marine biology, I decided to delve into molecular-based interests after taking genetics in high school.  Double majoring in molecular biology and biochemistry at the Florida Institute of Technology, I continued to be enthralled by what makes life tick at the chemical level.  This encouraged me to participate in research internships such as the Plant Genome Research Project at the Boyce Thompson Institute at Cornell University in 2006 where I used QTL mapping to investigate Lesion Cell Death genes in Arabidopsis.  In 2007, I participated in the Science Undergraduate Laboratory Internship at the National Renewable Energy Laboratory in Golden, Colorado, where I investigated how lignin hinders the acquisition of cellulosic ethanol in biofuel production.  After graduating summa cum laude from FIT in 2008, I matriculated into the Biomolecular Science and Engineering Program at UCSB.  There, I studied eye development using human embryonic stem cells and developed methods to expedite the production of a therapeutic cell type and improved the clinical translation of that protocol by employing xeno-free methods.  After graduating with my PhD, I continued my academic research in Clegg Lab as a postdoc and developed the world's first cryopreserved implant of adherent-RPE derived from human embryonic stem cells.  In 2017, I joined the biotechnology company, Regenerative Patch Technologies, where I trained a team and participated in the GMP-production of clinical-grade RPE implants for use in a Phase I/IIb clinical trial for age-related macular degeneration (NCT02590692).  At RPT, I also streamlined the GMP-manufacturing of the cryopreserved implant.  I continue my academic research in Clegg Lab as a project scientist investigating cellular responses to cryopreservation and mentoring undergraduate students.  In addition to research, I love teaching students and getting them to marvel at the complexity of life with me.  I have taught as an Associate Instructor of Stem Cell Biology in Health and Disease at UCSB, an instructor for the CSEP program School for Scientific Thought, and as an adjunct faculty teaching Cell Biology at Westmont College.  I enjoy STEM outreach to the community and have participated as a mentor in the UCSB Research Mentorship Program, volunteered with the Family Ultimate Science Exploration and SciTrek, and have directed, filmed, and produced outreach videos communicating my research.  I also treasure the opportunities to give outreach talks in the community, and I have been invited to give presentations at Anacapa High School, La Patera Elementary School, the Science and Engineering Council of Goleta, and the Santa Barbara Braille Institute Auxiliary.
Research
Age-related macular degeneration (AMD) is the leading cause of blindness in the elderly and is characterized by the death of the retinal pigment epithelium (RPE), the cell layer located behind the retina. The RPE maintains the health of the primary cells responsible for vision, the photoreceptors.  As AMD progresses, the RPE degrade, which causes the death of the photoreceptors and a debilitating loss of sight.  Human embryonic stem cells (hESCs) can generate a limitless source of RPE for cellular therapies, therefore efforts to derive RPE from hESCs to graft into AMD patients are under development.  However, to manufacture cells for clinical use, it is desirable for procedures to be performed under defined conditions sans animal products (xeno-free).  My research aims to characterize novel, xeno-free approaches to support the growth of pluripotent hESC cultures, permit hESC differentiation into RPE, and allow attachment, survival, and cryopreservation of stem cell-derived RPE onto synthetic scaffolds destined for implantation.
News
External Publications List
PubMed