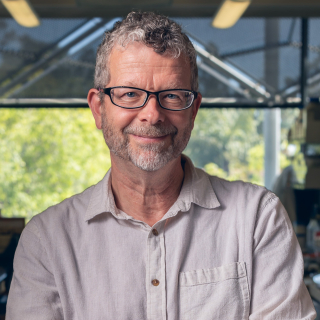 Thomas Weimbs, PhD
Professor
Office:
2113 Life Sciences Building, Office Hours: Wednesdays 1:30-2:30pm
Education
Ph.D. (Dr. rer. nat), Biochemistry, University of Cologne, Germany, 1993
Postdoctoral Research, University of California at San Francisco, 1994-1999
Bio / Publications from Lab
Dr. Weimbs received his doctoral degree from the Department of Biochemistry of the University of Cologne, Germany, in 1993. He conducted postdoctoral research at the Department of Anatomy, University of California at San Francisco until 1999. In the same year, he joined the Department of Cell Biology in the Lerner Research Institute of the Cleveland Clinic as an Assistant Professor where he established his research laboratory focusing on investigating membrane trafficking and epithelial cell polarity as well as molecular mechanisms underlying polycystic kidney disease. In 2005, Dr. Weimbs was recruited to the Department of Molecular, Cellular, and Developmental Biology and moved his laboratory to UCSB. Dr. Weimbs is currently a Professor in the Department of Molecular, Cellular, and Developmental Biology, and a member of the Neuroscience Research Institute, the Center for Stem Cell Biology and Engineering, the Center for Aging and Longevity Studies, and the graduate program in Biomolecular Science and Engineering.
Fun fact: Academic Tree
Research
The Weimbs laboratory studies molecular mechanisms underlying polycystic kidney disease (PKD) with an emphasis towards developing new therapies. Research from Dr. Weimbs' lab has led to a better understanding of PKD and led to novel methods to deliver therapeutics specifically to polycystic kidneys. Some of the most recent research has led to the discovery that dietary interventions and natural metabolites strongly slow PKD progression.
The metabolic state of ketosis has evolved to allow humans (and other animals) to use their stored fat reserves for energy in times of food scarcity. In ketosis, blood glucose and insulin levels decrease, and the liver produces "ketones" to provide an alternative fuel source for cells. The main ketone, beta-hydroxybutyrate (BHB), is not only used for energy but is also a potent signaling molecule that affects numerous cellular pathways. Recent research suggests that the state of ketosis has unexpected health benefits and promotes healthspan and lifespan. Research in the lab has focused on the role of ketosis in kidney health, chronic kidney disease, and the genetic disorder polycystic kidney disease. Chronic kidney disease is primarily caused by poor metabolic health culminating in type-II diabetes. Over 10% of the population (US and worldwide) are affected by chronic kidney disease. This has become a major health crisis. The lab is investigating molecular pathways that mediate the observed beneficial effects of ketogenic metabolic therapy.
Research in Dr. Weimbs' laboratory has been funded by grants from federal agencies, including the National Institutes of Health and the Department of Defense, by private foundations, including the Lillian Goldman Charitable Trust, the Amy P. Goldman Foundation and the Jarrett Family Fund, as well as several biotech companies
The lab's research has led to the launch of a startup company out of UCSB (Santa Barbara Nutrients, Inc.) to translate research findings and make innovative products available to improve human health.
External Publications List
Publications