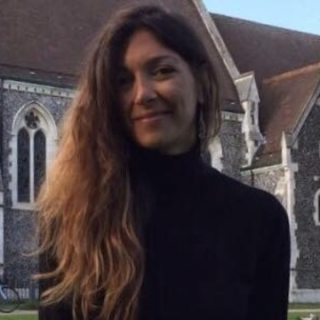 Francesca Zappa
Post-doctoral scholar
Office:
Main lab - 2203 Life Sciences Building
Education
Ph.D., The Open University, United Kingdom.
B.S./M.S., University of Naples, Federico II, Italy.
Awards & Honors
2020 Otis Williams Postdoctoral Fellowship.
2011, summa cum laude, M.S. degree.
Biography
Dr. Zappa earned her M.S. degree with honors in pharmaceutical chemistry at University of Naples Federico II in Italy in 2011 and her Ph.D. degree in 2017 at the Open University (UK). In her M.S. thesis, she focused on the synthesis of a new class of FXR agonists. During her Ph.D., she worked on on the response and adaptation of the secretory pathway to environmental conditions that alters cell homeostasis in the laboratory of Prof. Antonella De Matteis at the Telethon Institute of Genetics and Medicine (TIGEM) in Naples. Her work led to the discovery of a molecular mechanism for ER-to-Golgi transport controlled by stress granule formation. Mutations in key components of this general mechanism have been linked to the X-linked skeletal disorder known as spondyloepiphyseal dysplasia tarda (SEDT). Before joining the Acosta-Alvear lab, Francesca was a post-doctoral scholar in the de Matteis laboratory.
Francesca loves talking about science over white wine with friends. She joined the Acosta-Alvear lab in June, 2019.
Publications:
1. Rauch JN, Valois E, Ponce-Rojas JC, Aralis Z, Lach RL, Zappa F, Audouard M, Solley SC, Vaidya C, Costello MS, Smith H, Javanbakht A, Malear B, Polito L, Comer S, Arn K, Kosik KS, Acosta-Alvear D, Wilson MZ, and Arias, C. "CRISPR-based and RT-qPCR surveillance of SARS-CoV-2 in asymptomatic individuals uncovers a shift in viral prevalence among a university population". MedRxiv, 2020. https://doi.org/10.1101/2020.08.06.20169771.
2. Staiano L and Zappa F. Hijacking intracellular membranes to feed autophagosomal growth. FEBS Lett. 2019 Oct 11. PMID: 31603532
3. Zappa F, Wilson C, Di Tullio G, Santoro M, Pucci P, Monti M, D'Amico D, Pisonero-Vaquero S, De Cegli R, Romano A, Saleem MA, Polishchuk E, Failli M, Giaquinto L, De Matteis MA. The TRAPP complex mediates secretion arrest induced by stress granules assembly. EMBO J. 2019 Oct 1;38(19):e101704. PMID: 31429971
4. Zappa F, Failli M, De Matteis MA. The Golgi complex in disease and therapy Rev. CoCB 2018 Feb;50:102-116. PMID: 29614425.
5. Zappa F, Venditti R, De Matteis MA. TRAPPing Rab18 in lipid droplets Rev. EMBO J. 2017 Feb 15;36(4):394-396 PMID: 28130247.
Research Area
Francesca is interested in understanding how stress signals can be transmitted between cells, specifically on cell non-autonomous UPR mechanisms.